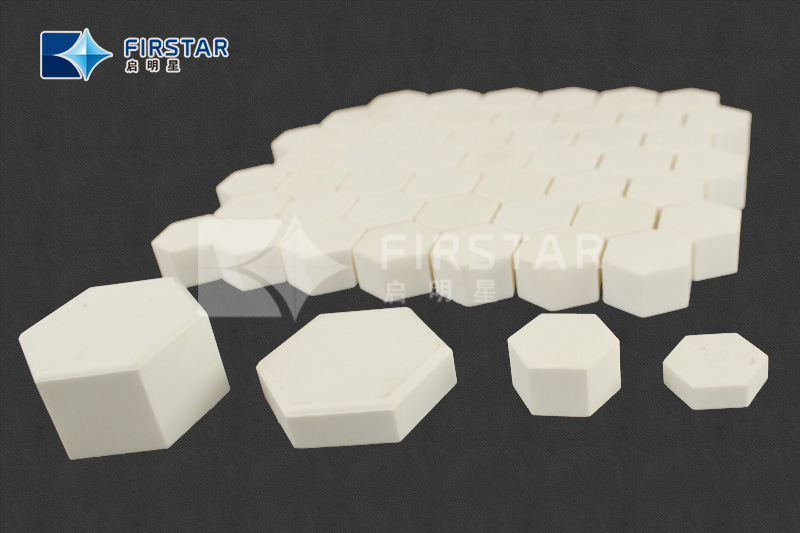 QMX ceramic lining pieces include Hexagonal Tiles, Square or rectangular linings pieces with/without dimples.
The bulk pieces can be sticked on nylon mesh, kraft paper and Acetate cloth to get the mats with sizes:150x150mm, 250x250mm, 500x500mm mats, etc.
The small pieces can also be vulcanized into the rubber backed panel or pulley lagging pads.
| | | | | | | | |
| --- | --- | --- | --- | --- | --- | --- | --- |
| Category | HC90 | HC92 | HC95 | HCT95 | HC99 | HC-ZTA | ZrO2 |
| Al2O3 | ≥90% | ≥92% | ≥95% | ≥ 95% | ≥ 99% | ≥75% | / |
| ZrO2 | / | / | / | / | / | ≥21% | ≥95% |
| Density | >3.50g/ cm3 | >3.60g/cm3 | >3.65g/cm3 | >3.70g/cm3 | >3.83g/cm3 | >4.10g/cm3 | >5.90g/cm3 |
| HV 20 | ≥900 | ≥950 | ≥1000 | ≥1100 | ≥1200 | ≥1350 | ≥1100 |
| Rock Hardness HRA | ≥80 | ≥82 | ≥85 | ≥88 | ≥90 | ≥90 | ≥88 |
| Bending Strength MPa | ≥180 | ≥220 | ≥250 | ≥300 | ≥330 | ≥400 | ≥800 |
| Compression strength MPa | ≥970 | ≥1050 | ≥1300 | ≥1600 | ≥1800 | ≥2000 | / |
| Fracture Toughness KIc MPam 1/2 | ≥3.5 | ≥3.7 | ≥3.8 | ≥4.0 | ≥4.2 | ≥4.5 | ≥7.0 |
| Wear Volume | ≤0.28 cm3 | ≤0.25cm3 | ≤0.20cm3 | ≤0.15cm3 | ≤0.10 cm3 | ≤0.05cm3 | ≤0.02cm3 |